Being on the run certainly defined Geronimo's way of life. He belonged to the smallest band within the Chiricahua tribe, the Bedonkohe. Numbering a little more than 8,000, the Apaches were surrounded by enemies—not just Mexicans, but also other tribes, including the Navajo and Comanches.
Raiding their neighbors was also a part of the Apache life. In response the Mexican government put a bounty on Apache scalps, offering as much as $25 for a child's scalp. But this did little to deter Geronimo and his people. At the age of 17 Geronimo had already led four successful raiding operations.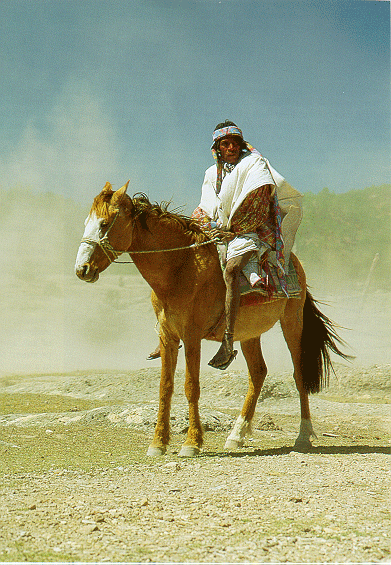 The last of the Apache-Tarahumara horsemen from Choguita-Narnarachi region of the Copper Canyon of Chihuahua Mexico. April 1994
They have now, by 2013, completely died out and are now an extinct sub-tribe as is their special language and culture.
I published a book that sold more than 10,000 copies on the connection between the Anasazi and the Ancient Knowledge of the Tarahumara and Apache Indians of today. Running, ancient agriculture, religious beliefs and load carrying are the main connections between these ancient Anasazi clans and modern yet traditional tribes. This is the front cover collage from 2003.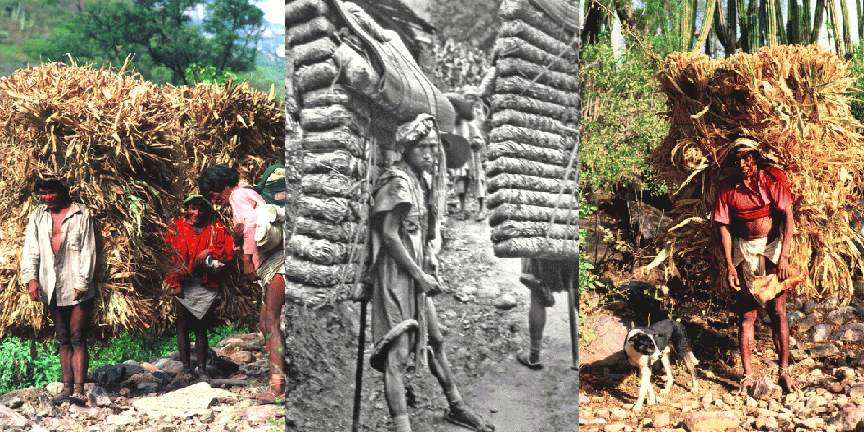 I have documented Tarahumara Indians transporting loads of over 150 lbs for dozens of miles in exceedingly rugged terrain in the Copper Canyon.
Tibetan tea porters have been documented by the Royal Geographic Society carrying up to 325 lbs, 5 miles per day for one Mexican silver dollar, in the 1890s. These are the heaviest loads that we have been able to find historical documentation for. This load carrying capacity has tremendous validity when attempting to understand what the Chaco Canyon Anasazi were carrying in the time period of 829-1159 CE.
This is one of the three primary reasons in my personal and professional interest concerning the Tarahumara Racing Team's performance.

During the 1990s the Tarahumara region was extensively deforested which caused immediate micro-climate change and an intense drought set in.
Through my relationship with the Tarahumara Racing Team, I found out the impact on the Tarahumara people, as thousands of children starved to death during that decade. My personal effort, which continues into 2013, is to deliver over 200 tons of appropriate foods.

American family to Tarahumara families. We all had some great adventures 2002-2011. Copper and Batopilas canyons, fabulous eco-tourism and cultural adventure destinations.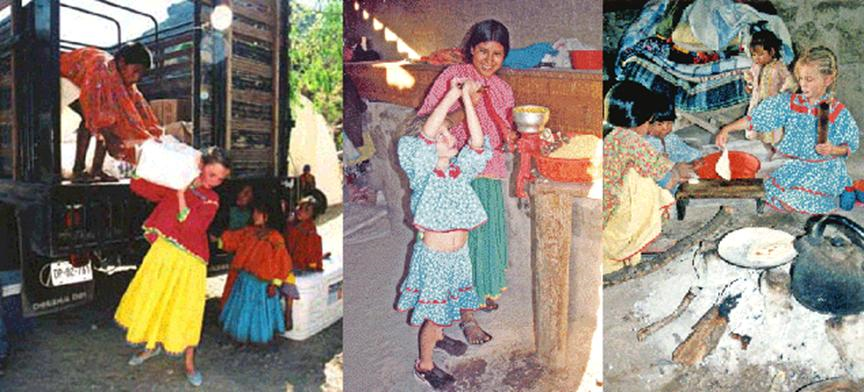 Learning and enjoying traditional Tarahumara lifeways during the famine relief expeditions.
The winning history for Native American running is confined to Jim Thorpe 1912, Billy Mills 1964,
and the Tarahumara Racing Team 1992-1998.
Why?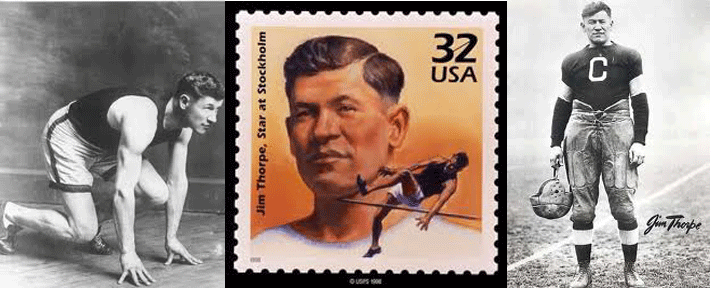 Jim Thorpe was perhaps the United States' greatest athlete of the twentieth century, an American Indian, Thorpe was born in 1888,was also known as Wa-tho-huck, which in the Sac and Fox language means "Bright Path." He indeed followed one of the brightest paths in United States athletic history, excelling in football, baseball, and Olympics competition. He was selected by the Associated Press as the greatest athlete of the first half of the twentieth century.
As was the custom of the day, the medals were presented to the athletes during the closing ceremonies of the games. Along with the two gold medals, Thorpe also received two challenge prizes, which were donated by King Gustav V of Sweden for the decathlon and Czar Nicholas II of Russia for the pentathlon. Several sources recount that, when awarding Thorpe his prize, King Gustav said, "You, sir, are the greatest athlete in the world", to which Thorpe replied, "Thanks, King".[19][20]
In 1982, the International Olympic Committee finally recognized Jim Thorpe as the (co)winner of the 1912 pentathlon and decathlon. In 2000 a majority of respondents to an ABC Wide World of Sports internet poll did vote for Thorpe as the twentieth century's greatest athlete, and the results were announced prior to Super Bowl XXXIV.
William Mervin "Billy" Mills, also known as Makata Taka Hela (born June 30, 1938), is the second Native American to win an Olympic gold medal.[1] He accomplished this feat in the 10,000 meter run at the 1964 Tokyo Olympics. His 1964 victory is considered one of the greatest of Olympic upsets.[2] A former United States Marine, Billy Mills is a member of the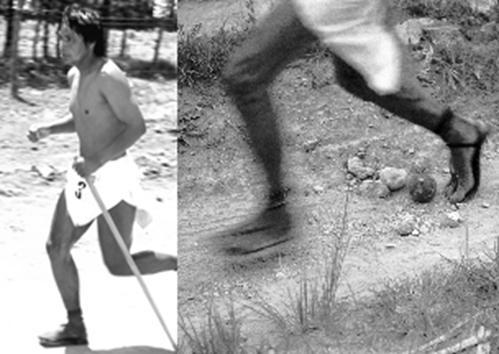 While the Tarahumaras run in very minimal sandals, they would think anyone who ran barefoot in their terrain was a fool.
Running Feet
Art Beauregard
Ultra Marathon Running - Term Paper
12/96
(Note: Apparently Mr. Beauregard made no effort to fact check or contact the sponsors of the Tarahumara Racing Team easily available at that time in 1996. An otherwise excellent effort by Art Beuregard and mostly factual with my corrections noted in red. (We very much want to thank Art Beauregard for his fine efforts and this opportunity to demonstrate the problem in accurate media reporting facing the Tarahumara Community today, especially since 2009.)
Art Beauregard Ultra Marathon Running - Term Paper 12/96. For the people to whom running is a lifestyle, ultra marathon running seems an old phenomenon, ... The Tarahumara routinely run distances only covered by only the most advanced ...
Tarahumara public racing began at the 1928 Olympic marathon. The two Indians that were running were not aware of the distance and when they finished, they were not tired and said, "Too short! Too short!" (Lutz 22) correct
The Tarahumara first appeared on the Ultramarathon circuit in 1992 at the Leadville 100-mile run in Colorado. They were brought from Mexico and funded while they were here by Rick Fisher, operator of Wilderness Research Expeditions (Ramos A1). Richard D. Fisher is disliked in the Ultra community because he is thought to be loud, outspoken, and rude. For the Tarahumara, this is true concerning the Ultra Runners themselves. Many of the Ultra Runners are big at back slapping, hard handshaking, hugging, jumping around and ho-ra-ra shouting, a well known and observable fact which is objectionable to the Tarahumara. As white Americans are so much bigger and more aggressive than the Tarahumaras, they find these behaviors extremely offensive and in fact, frightful. They do not like to be touched or given hard handshakes which white people love to do. The Tarahumaras, in fact, do not like to be touched at all, something not respected nor understood to this day. So the attempt made to educate the white runners and race officials was turned around and blamed on the sponsor, Richard D. Fisher for their own behavior. Fisher tried his best to educate about this to no avail. To flip the blame is very common and human thing to do, but none the less, harmful to cultural understanding and respect for others as well as truth telling in journalism.
Richard D. Fisher, as leader of the team, by necessity is very quiet, reserved and must stay busy caring for the 6-10 runners and a dozen crew members. The only solution was to begin isolating the runners after 1993. A well meaning 200 pound white runner pounding a 125 pound Tarahumara runner on the back was not only objectionable, it was rude and insulting. These Tarahumara might be champions but they could actually be injured by these poundings, extra hard handshakes and bear hugging which even entails lifting them off the ground. These white guys would say "Oh, sorry, I was just trying to be friendly" but in fact if, nothing else, they were demonstrating dominance in the crudest sense of the word and, yes they meant it that way, in many cases. As a result, I and in later years, Mr. True Hickman, felt it was too dangerous, or at least, too uncomfortable to bring them out Internationally after 1997.
It is also believed that he uses the plight of the Tarahumara simply to gain attention for himself and for his organization. Yes, this is the view point and position of the white ultra running community right from the very beginning. Yes, absolutely true! I tried at every turn and opportunity to draw attention to the massive deforestation going on in the Copper Canyon at that time and the devastating famine that was just beginning. Still to this day, there is no understanding, by virtually anyone associate with racing or otherwise, how poor the Tarahumara truly are, as well as how things are degrading their incredible culture, step by giant step, year by year. The Race Directors want their entry fee money months in advance, the media wants their time and their spin on their culture and running events, as well as everyone else wants their cut out of them.
But this is obviously not the view of the Tarahumara Racing Team members themselves, as they continued to come with me time after time. This is the strategy of the culture of conquest...neutralize the leaders, in this case me. No Fisher and no Tarahumara international running champions and winners, true. Also never recognized is that it cost about $1,000 USD
Per runner to bring them to an international event. We brought a minimum of 5 and sometimes a many as a dozen. And thousands more if they won, of course. No one associate with racing every asked nor contributed. Round figures it was in excess of $100,000 thousand dollars over 6 years in question for just the racing. Adding food deliveries over 15+ years it is easily over $175,000 USD. Easy as well free to criticize but as real challenge to put your money where your mouth is friends.
In their first race, none of the Tarahumara finished. In 1993, Fisher tried again but this time he familiarized the indians with the course, the equipment and the American racing customs . In 1992 the Tarahumara had many problems. First, they were unfamiliar with the course. Second, they did not know how to use the equipment. At night, they ran with their flashlights pointing up likes the torches that they are used to. Not true, just a stupid comment that is repeated time and again. This first effort ended about 12 noon so no need for flashlights. The Tarahumara have owned and know how to use flashlights for decades. Third, at aid stations they simply stood there and therefore received little nutrition and became weak and dehydrated. In their culture is not polite just to take food. They wait until it is offered. True
In the 1993 Leadville they fared much better. Tarahumaras took first, second and fifth place (Williams 8). The most amazing thing about the Indians was their pace. The winner was fifty-five years old and only ran the second half of the race twenty minutes slower than he ran the first! Another thing that shocks the ultra spectators is Tarahumara footwear. They wear sandals called huaraches made out of old tire tread and leather straps. A Tarahumara won Leadville again in 1994.
Later that same year (actually September 1995) in Utah at the Wasatch 100-Mile run, the Tarahumara were part of a controversy. Someone did not pay their entry fees so they weren't allowed be official runners. They ran unofficially and a Tarahumara was the first to cross the finish line. The Tarahumara runner Gabriel Bautista set the course record at that time. This greatly upset race officials (yes, it did) and the second person (standard issue Ultra runner) to cross the finish line had to be declared the official winner. This is very similar to the Jim Thorpe tragedy that happened after the 1912 Olympics where he was stripped of his medals.
What actually happened here?
1. The race director would not allow the entry payment in the name of "Tarahumara." Several months in advance the team sponsors had no idea which individual Tarahumara would attend.
2. Even though the race director knew the Tarahumara had absolutely no money he would not waive the entry fee until race day. Or if he was a good person, he could have waived the entry fee altogether.
3. Even when it was reported on the front page feature page of "The Salt Lake City Tribune" September 5th 1995 and covered by "NBC - Nightly News by Tom Brokaw, the race director "hardened his heart against the Indian Runners" and would not allow them to make late entry payments which were donated by the kind hearted people of Utah who wanted to see the Tarahumaras run.
In a fine effort by Art Beuregard the historical problem for the Tarahumara running is documented above with corrections with corrections. In this example, he is telling only one side of the story. This has happened in all known media accounts since 2004. It is hoped that with the correction the reader can see the different points of view, why the controversy, and the challenges faced by Tarahumara runners and their sponsors in a balance and thoughtful way.
This little example of no fact checking with sources, even in 1996, illustrates the problem especially with reports made after 2008, more than a decade after the events occurred. There are blowhards, bullies, hangers on, swindlers, wannabes in every field and major event such as this one about the Tarahumara Racing Team and the Legendary Tarahumara Runners. These current fakes glom onto the Tarahumara's success without knowing not a thing about the Tarahumara Racing Team, just miss reporting of 2nd and 3rd hand reports more than a decade later, that were never fact checked in the beginning. In the media and especially Hollywood such scams are common place.
These BS artist were labeled straining to be "Gonzo and overly clever" by Dan Zak of the Washing Post (June 21, 2009). Good call Dan Jak. Current postings on the internet have been recorded to say "will Hollywood ruin" the Tarahumara racing story? Given events and personalities post 2004, that had no direct experience with a Tarahumara Champion Runners, and the poor quality journalism currently in vogue, the Hollywood Version probably will be as the ol' rancher was fond of saying, "bull pucky", "horse shit" and "hog wash." hahaha-ah
Life is often so, so funny, even when it is a tragedy.
The History Since 1997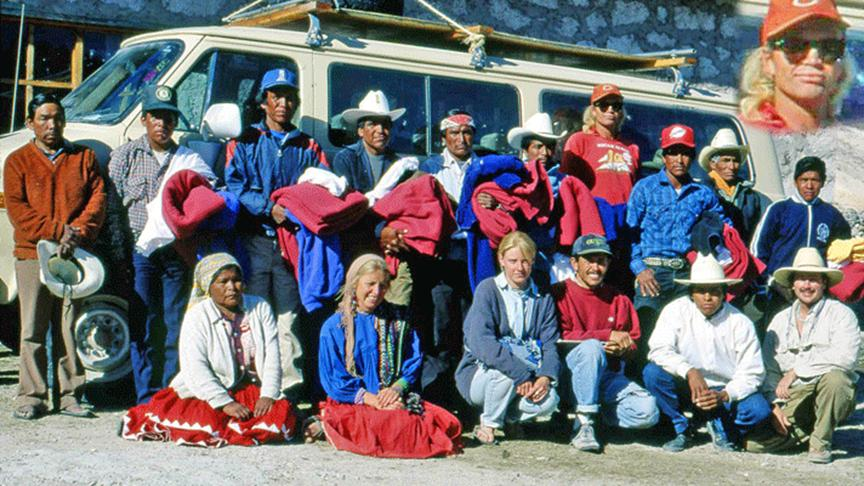 True Hickman Shaggy spirit.
Born Michael Randall Hickman, he had many stage names over the years. Micah True, Caballo Blanco (White Horse), Gypsy Cowboy, Shaggy, and a number of other ones. His true spirit was with the Native American people and he was very against any type of commercialization of running, in general and the exploitation of the Tarahumara9OR (or himself) by any form of the media or sports marketing. Sometime after 2009, drastically altering his appearance he shaved his head, losing his long hair which he had had for the previous 35 years or more. Near the time of his unfortunate and untimely death, via email he expressed strongly his dissatisfaction with the commercial marketing campaign that had take over his life. Mr. Micah Hickman True passed away in a remote canyon in the Gila Wilderness in March 27, 2012. Perhaps he died of a broken heart?
Under the name Micah True he participated in our programs a number of times in the 1990s. Here he is pictured at one of our races in 1995 near Creel Chihuahua. After 2000 True Hickman tried his best to sponsor races for the Tarahumaras and in 2005- 2008 finally obtained enough funding to setup a race in Urique. Ultimately this race turned out to be very successful as the Tarahumaras would really like to race again. Mr. Hickman was against bringing them to the international circuit because he was well aware and involved with some of the unfortunate events prior to 1998.
In his last major posting Mr. Hickman said," I want to be remembered as authentic." There may be something important and especially meaningful in the timing of this statement, or why would he post such a thing? Why was he interested in "how he would be remembered" at the moment of his greatest success?
None the less we will remember "Shaggy" as being "authentic in the time period that we knew him in the 1990's
May Micha True Hickman's long haired legacy of Native American loving and respecting spirit rest in peace.

The Easter ceremonies were spectacular events back in the '90s and perhaps are still today.

Richard D. Fisher on famine relief deliveries 1992-2011 (above and below).


Pictured above is the drought devastated landscape, a starving Tarahumara Child at the Tarahumara Children's Hospital in Creel which we supported with tens of thousands of dollars in direct cash donations over many years and the happy Tarahumara children and families during a famine relief food delivery.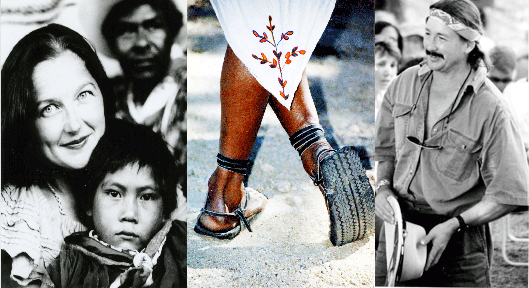 Kitty 'Kit' Williams, the person who first came up with the idea for helping the Tarahumaras with and involving ultra-running.
And the "glue" (running feet) that made it all happen for Richard D. Fisher and of the last legendary Tarahumara racers. 1990-1998
Kitty "Kit" Williams tried her very best again and again for the Tarahumara Racers and she took a lot of cruel and undeserved hits for it as well.
She wrote the first "Born to Run" book. A master piece, which was not represented ethically by an agent, I believe. Much of her fine writing was taken and spun into other media projects several times over the years. She deserves so much credit and honor for what she has done for the Tarahumara over two decades.
I must say she is a beautiful, brave, kind hearted, compassionate and enduring human being who deserves the highest admiration and respect.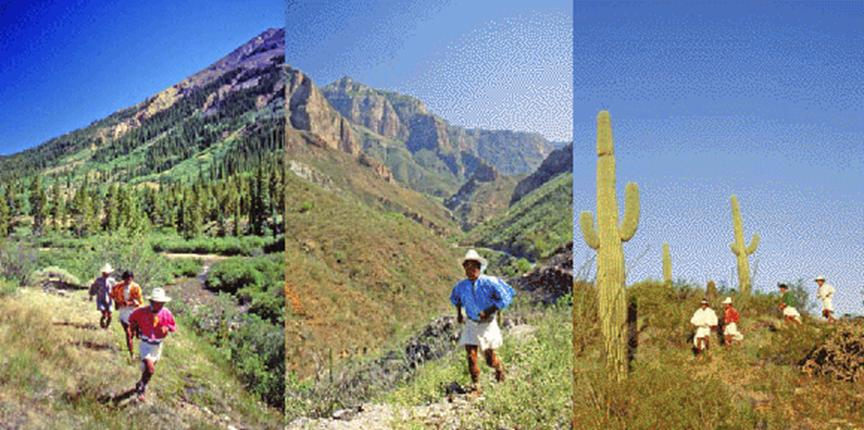 During the 1990's several Tarahumara told me that they would prefer they raced until no one was left standing, after they had finished in the top 10 of a 100 mile Ultra. They simply said we are "not tired." In the mid-90's we even developed a youth team of boys in the 12 year old range that could win anywhere anytime at any distance from 10KM to 50 miles. By then however, I was starting to get concerned about safety and security for our team. It seemed that the youth team might not be a good idea. Too bad, because by now the Tarahumara might have been competitive in the Olympics representing Mexico in the Marathon.
It should be pointed out that the Tarahumara Racing Team was always underfunded and this greatly contributed to our very sadly closing down the team in 1998. Micha Hickman True also suffered the same problems. He tried to set up his own races starting in 1995 but was not successful until 2005 when he eventually compromised his policy of who could sponsor his races. While there are many emails and published accounts that he was not happy with the sponsorship affiliations, it was the sponsorship money that allowed him to try the racing game. There were many signs that he was troubled and unhappy but as of now we have none of the factual details. Therefore we have ideas of the problems as they also happened to us back in the '90 but will not speculate here at this time. We can only look at his published emails and Facebook entries to see a glimmer of what he was going through at the time of his death.
Articles published during the time period of the actual performance of the Tarahumara Racing Team and most those who were there with the Tarahumara Champions would agree, for the most part, are accurate.
2002: Newsweek International, "Running On Empty." Feature review of Tarahumara running. August.
2001: Explore Magazine, "Mexico's Copper Canyon."
2000: Ambassadair's Journey, "Mexico's Copper Canyon."
Escape Magazine, "South by Southwest." Mexico's Copper Canyon photo feature.
1995: Esquire, "Born To Run." British Esquire. November.
People Magazine, "Going the Distance Mexico's...Tarahumara Run Ultra-marathons for Tribal Survival." October.
1994: Native Peoples, "The Return of the Tarahumara." Cover story.Front cover photo. Spring.
1993: Summit Magazine, "Copper Canyon." Winter.
Runner's World, "The Legend of the Tarahumara." Feature article and photographs. December.
Running Wild, "A Visit to Copper Canyon." Summer.
1991: Family Magazine, "Copper Canyon." August.
1990: American Way, "Conquering the Canyons." July.
Buzzworm, "Sierra de Tarahumara - Exploring the Lost Canyons of Mexico." June.
Arizona Highways, "Barranca del Cobre - Mexico's Grand Canyon." January.
1989: Native Peoples, "Semana Santa - A Celebration." Cover story. Front cover photo. Summer.
1987: Backpacker, "Mexico's Copper Canyon - Endless Summer Just South of the Border." November.
1986: Journal of Arizona History, Vol. 27, No. 1, "Geronimo's Hideouts in Mexico."
1985: Arizona - The Arizona Republic Magazine, "Mexico." April.
Newspaper Articles - Partial List
2000-2001: Austin American - Statesman, Tucson Citizen, Sun - News, Alpine Avalanche, "Tarahumara Famine"
1998: Arizona Daily Sun, "Dancing for Their Lives." Tarahumara Indians article. February.
1989: El Dia, "Virgin of Guadalupe." Color article, Spanish newspaper, Houston, Texas. December 31.
1997: Arizona Republic, "Mexico's Copper Canyon." Full page color article. June 1.
Four Corners Magazine, "Tarahumara Indians." Cover and feature article. April/May.
Flagstaff Daily Star, "Sad Songs of Drought." Front page feature article. February 3.
1996: Los Angeles Times, "Tarahumara Runners." Front page feature article. September 25.
Taos Daily News, "Tarahumara Indians Run for their Lives." July 15.
1995: The Salt Lake Tribune, "Tarahumara Runners." Front page feature article. September 5.
1990-1995: Over 28 major feature articles nationwide including the New York Times.
1989: Milwaukee Journal, "Mexico's Copper Canyon." December 31.
The Dallas Morning News, "Mexico's Copper Canyon." November 19.
The Oregonian, "Mexico's Copper Canyon." November 15.
The Tampa Tribune, "Mexico's Copper Canyon." October 15.
The Tucson Citizen, "Backs to the Wall." January 31.
1988: Vanguardin, "Un Trotomundos." Cultura. September 10.
1986: The Tucson Citizen, "Three Tucsonans Explore Remote Mexican Barrancas." February.
1985: The Tucson Citizen, "Mexico - Fisher's new book guide to wild places." February 1.
1983: The Tucson Citizen, "Desert Museum Photo Contest - First Place Award Wildlife." Focus. August 30.
Fort Apache Scout, "Cibecue Race." April 15.
Television
1995: Qantas Airline TV Commercial, "Best in the World." Tarahumara running. November.
NBC, "Nightly News with Tom Brokaw." Tarahumara in Utah. September.
PBS, "Arizona Illustrated ." Tarahumara Arts and Crafts, Famine Relief. February.
1994: CBS, "Eye on Sports." Tarahumara record breaking win in Leadville Trail 100. October.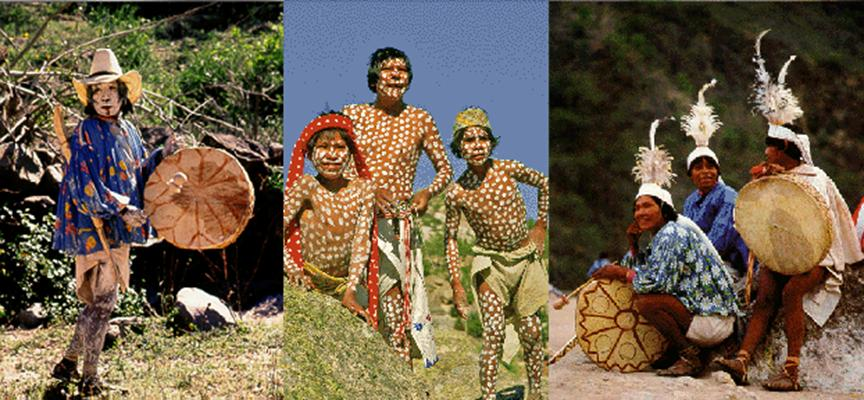 Tarahumara culture is a deeply felt and revered Native American lifeway in which many aspects go back a thousand years or more.
"Modern" religious ceremonies from the 1600s are pictured above.

Copper Canyon, Batopilas Canyon and the Sierra Tarahumara as well as Basaseasachic Falls
are some of the greatest splendors of the Sierra Madre in Northern Mexico.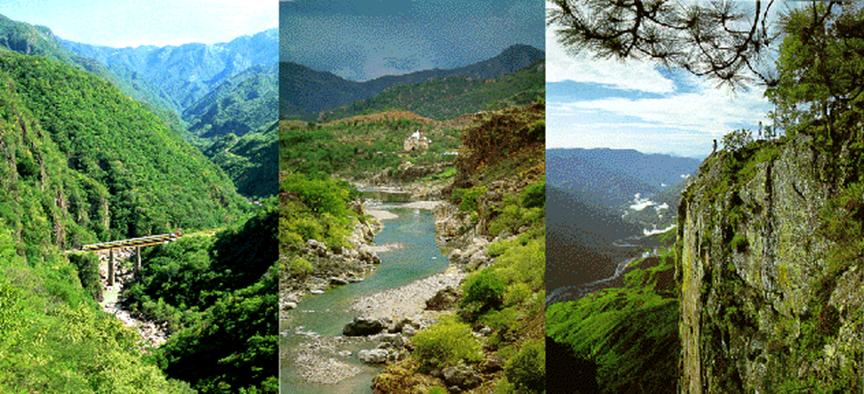 The Copper Canyon Train is the gateway to the entire unbelievably spectacular region.
Here is available to international tourists an unsurpassed adventure destination. Truly a wonder of the natural and cultural world.
As their primary coach and primary sponsor I am proud to say I "fought" for the rights of our great Tarahumara Runners. Absolutely, I am temperamental and fiercely protective of those I am responsible for. I will also note that in the commercial sports world I am relatively mild mannered as compared to well known temperamental coaches and players of the era as well.
Like Geronimo, who I have always admired and studied, I waged my battles and never gave up striving for equal rights for
Native American athletes and respect for our Winning Tarahumara Racing Team members!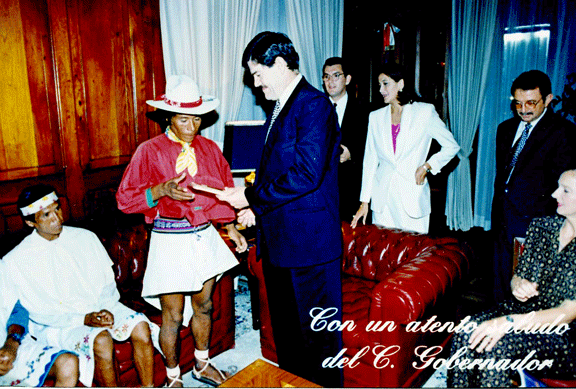 The first and second ever Tarahumara Champion Runners were honored by Governors as well as the President of Mexico.
If the Racing Team had been funded in any way on the American or Mexican side of the borders, perhaps our youth team of 2005 would have by now been representing Mexico at the Olympics for the Marathon Distance and competitive with the Ethiopians who have a National running development program.
Native Americans are well known to be great endurance runners. Why in a century, have only two Olympians and a handful of Tarahumara Indian Champions stopped participating internationally after such an unprecedented success? With several different coaches and sponsors why are there no more international champions after 1997? THE questions remains Why?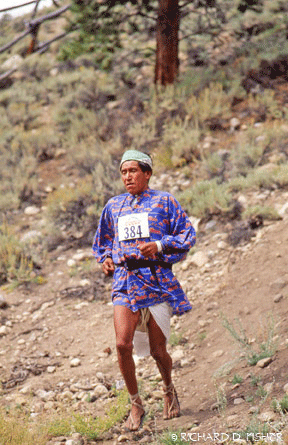 LAST STAND OF THE GREAT TARAHUMARA INTERNATIONAL RUNNERS 1997
Great Native American Champion, Carrildo Chacarito. First Place, Age 43, Angeles Crest 100M, Sept 27, 1997.
Carrildo was 2nd place finisher overall at the Leadville 100 in 1993 and at last was able to prove his championship abilities in 1997.
He was the last Tarahumara international champion.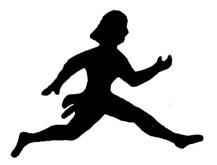 http://www.people.com/people/archive/article/0,,20101974,00.html
http://en.wikipedia.org/wiki/Geronimo
http://www.pbs.org/wgbh/amex/weshallremain/files/transcripts/WeShallRemain_4_transcript.pdf
http://www.nps.gov/nr/travel/amsw/sw12.HTM
http://www.nps.gov/nr/travel/amsw/sw28.htm
http://www.canyonsworldwide.com/canyonlovers/richard-fisher/index.html
http://www.canyonsworldwide.com/canyonlovers/canyons/slide-1/index.html
http://www.canyonsworldwide.com/canyonlovers/canyons/what-goes-around-comes-around/index.html
http://en.wikipedia.org/wiki/Battle_of_Cibecue_Creek
http://www.lehigh.edu/~dmd1/art.html
http://en.wikipedia.org/wiki/Billy_Mills
http://en.wikipedia.org/wiki/Jim_Thorpe