Canyoneer: Richard D. Fisher
"For many years, the Yarlung Zangbo in eastern Tibet was known to be among the deepest valleys in the world. Its inaccessibility meant that its depth could not be directly measured—until 1993, when, after 10 years of trying, explorer Richard Fisher obtained the permits he needed to visit the area. British botanist Francis Kingdon Ward explored the Yarlung Zangbo at the beginning of the century, but no other Westerners were able to do so until Fisher led his expedition there."
- Guinness Book of Records, 1996
I was born in Washington, DC, in 1952 and brought up in Indiana, Texas and California , but mostly in the canyon state of Arizona. From my earliest years, I was inspired by legends of a young man from the hills of Judea who bounced rocks off lions stalking his goats and, as he grew older, hunted giants with his slingshot. In later years, my inspiration came from the biography of Crazy Horse, the great Sioux chief who invested his efforts protecting his people and their life ways.
Beginning in the American Southwest, I expanded into the extensive canyonlands of Mexico, Bolivia, China, the United States, Tibet, Greece, Ethiopia, Australia, Spain, France, Namibia, South Africa, Venezuela, Bosnia, Monte Negro, Corsica and Crimea. While doing so, I have guided more than 1,000 special people on five continents—deaf, blind, juvenile delinquents, Native American youth and educational groups. Guiding, combined with photography, led to the publication of seven books, including Copper Canyon Mexico, and more than 100 articles in five languages in such magazines as Arizona Highways, Sierra, National Geographic, Outside, Reader's Digest and Smithsonian.
I have been very fortunate to be the first American to explore the earth's deepest canyon in Tibet; help the canyons of the Mogollon Rim, like West Clear Creek, to get USA National Wilderness designation; discover and sponsor the only championship ultra long-distance Tarahumara Indian racing team (and deliver more than 195 tons of famine relief since 1992); discover and document the geographical location of the River Styx and the mythical land of Hades in Greece; to photographically document the largest crystals ever discovered in Chihuahua, Mexico; to reconnect the ancient knowledge of the Hohokam and the Anasazi of the Chaco Canyon to the scientific world of archaeology; and to complete the first comprehensive documentary of all of earth's great canyons.
During all of these expeditions, I lead more than 1,000 people in some of the most dangerous environments on six continents and never lost a soul. I always put people ahead of ego and safety before material objectives. This is ultimately what made me successful. Having led blind children more than 30 miles to the bottom of the Grand Canyon at Havasupai, spent many weeks alone with hardened juvenile murderers and rapists in the Salome Wilderness and led several people who had never walked more than 18 holes of golf around Namche Baraw Peak through the Tsangpo Gorge in Tibet, without major incident this is, in many ways, my most significant accomplishment.
"To be an explorer, one must imagine, conceptualize, recognize, document, publish, defend and ultimately survive the challenges of your critics."
- Explorers Club FN97.
Current projects as of 2010 are to document canyons in central Asia that will be dammed in the near future. Research and document the last "Pygme Tribe" in the Burma/Tibetan/China borderlands and apply Darwinian principals to the study of this unique and nearly extinct native group. And locate as well as document the "Grand Canyons" of Laos, Vietnam and Butan.
"RICHARD FISHER is a name synonymous with canyons. He has a Bachelor of Science in education from the University of Arizona. As a freelance photographer, climber, river runner and wilderness guide he's stacked up many first descents. He has dedicated his life to the preservation and sharing of canyon environments and cultures around the world."
- Sierra Club Publications 1986
Rick has a daughter, Mariah Sierra Williams Fisher, and lives in Tucson, Arizona and locations along the Buram/Tibet/China borderlands. He can be contacted here.
Maria Gates
Bachelor of Science from Indiana University School of Business in Engineering and Mathematics. Explorer, Rock Climber, Mountaineer, Canyoneer.
After a 33 year career in marketing, advertising and commercial printing my focus has evolved into full time philanthropist, canyoneer and explorer of canyons world wide.
Mother of two children, Matthew and Alexandra.
Life long enthusiast for extreme nature and adventure travel in Europe, Africa, Asia, Australia, New Zealand, North America, South America. Life long interest in Philantrophy for women and children, most recently in an orphanage in Shangri-la, Tibet and food delivery in Copper Canyon, Mexico.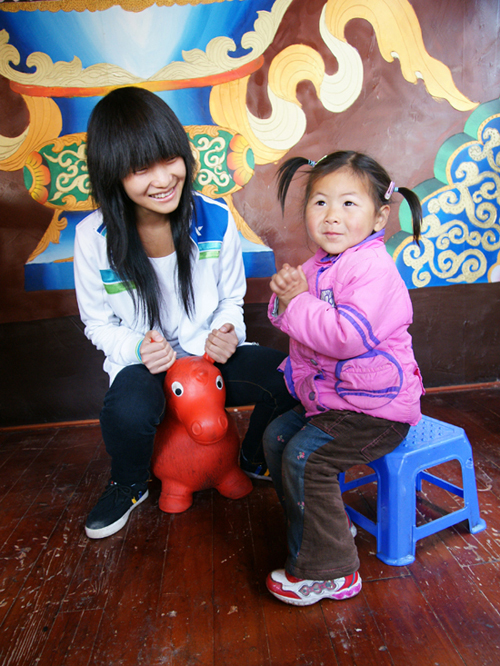 This is our translator and day to day assistant: "Summer" Fan Xue Jiao
Graduated from Southwest university in Chongqing province.
With Siyuan the grand daughter of Sean of Tiger Leaping Gorge fame.