Oct
25
Our quest to find the major Canyons of Southern Turkey began flawlessly with a flight from Istanbul directly Antalya  to this port and major tourist destination on the Mediterranean. From years of research on these canyons I was eager to actually lay my eyes on this ancient landscape whose history was so important to Islamic, Christian, and Hebrew religions and I was equally interested in the ancient Greek and Roman history of this incredible place. Events here have played a part in modern history for more than 4,000 years.
I already know the canyons were of Karst Geology (limestone) and there for would most likely be what are called "Slot Canyons" of a rugged and challenging nature. Swimming long pools, bouldering, a bit of climbing as well as rafting might be required to explore them. The first thing to do was locate maps and level expert on these canyons.  We were in fantastic luck again when our frist and perhaps most important discovery was  Enver Lucas,  a Turkish/American who spoke both native English as well as Turkish languages and owned a much in demand fine yacht and know a considerable amount about the local canyons as well as all things Turkish including an encyclopedia knowledge of the history of the entire region and indeed the nation of Turkey.
The history, geography,geology and culture that Envor shared with us over several days was so fascinating I must recommend the Antalia link on Wikipedia which is exceptionally well done.  http://en.wikipedia.org/wiki/Antalya
Photography by Maria Gates and Richard D. Fisher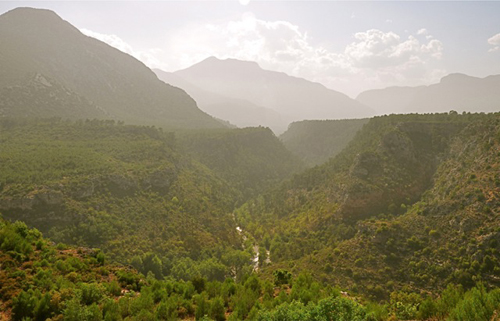 Koprulu Canyon
Along side the Mediterranean when you take the Alanya highway and drive to Northeast of Antalya, at the turn off for Tasagil, is the scenic route that leads to the Koprülü Canyon National Park . The twisting road crisscrosses over mountain streams and passes through Virgin forests. It is often a slow drive as the view at every turn is more beautiful than the last. The park, 92 km from Antalya , is the valley of wild beauty rich in flora and fauna. The canyon stretches for 14 km along the Koprü River and is 400 meters deep in some places. The Roman Oluk Bridge , which spans the canyon, and the Bugrum Bridge over the Kocadere stream, are engineering feats of antiquity. From this park you can make two possible excursions to the ancient city of Selge and to the Dedegol Mountains. Dedegol, the highest peak in this mountain range rises to 2,992 meters. An important city of ancient Pisidia, Altinkaya (Selge), northwest of the Koprulu Canyon National Par , is reached by a winding mountain road. Now Canyon is very popular for white river Rafting area make is attractive by the tourists in the Antalya Hotels, and everyday a thousands comes and have Boat rafting tours in the Koprulu Canyon (Beskonak) on the region. Connection of Manavgat province with other centers is only maintained by road. Bus companies within province are maintaining transportation to other cities and provinces from Antalya at west and Alanya at east. Bus companies in Manavgat and Side coaching station, are increasing their bus voyages according to tourist number, which increases during summer months. Alternative minibus voyages are organized from province to Manavgat Waterfalls, Side, Sorgun like visitable places. (the next 4 photo's below)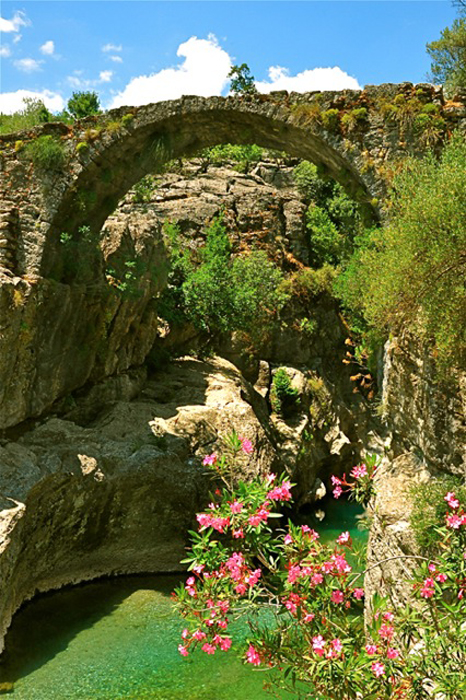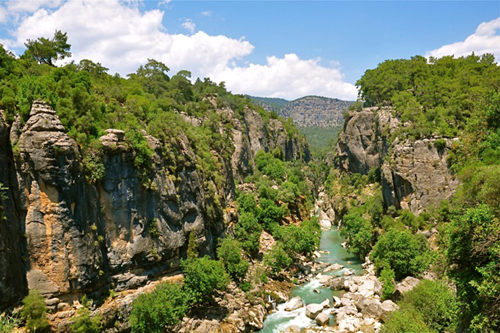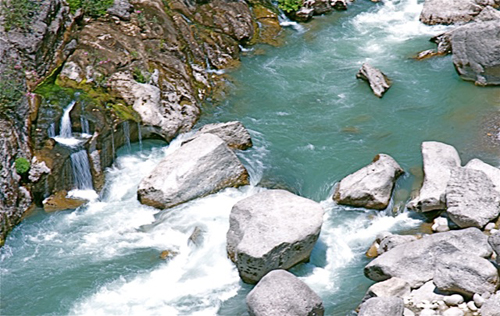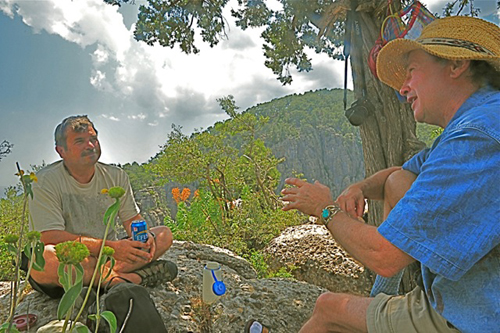 Enver and Richard discuss their worldwide canyoneering adventures over good local wine, bread, goat cheese and salami on the stunning overlook of the Korprulu canyon.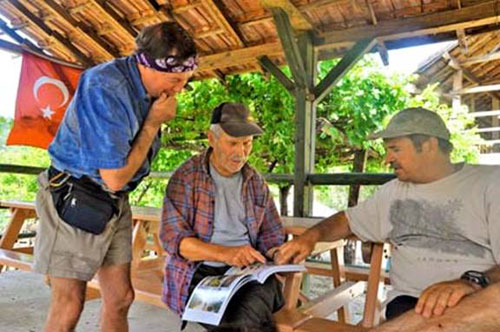 Richard Fisher carefully listening to the advice of the original canyoneers Gok Tevfik and Enver Lucas at the entry way to Turkeys incredible canyoneering challenge in Koprulu. Gok Tevfik, meaning "sky Tevfik" for his blue eyes, has a wonderful B&B at the entry way of the Koprulu canyon narrows. (above) lucas@turkertravel.com.tr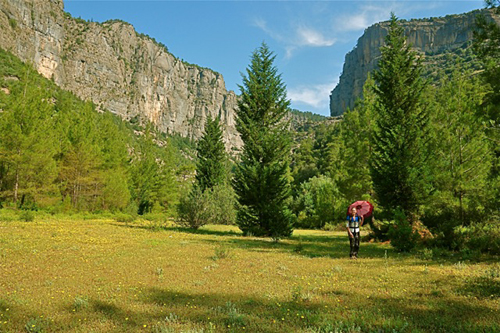 Maria Gates hiking the canyons section of the St. Paul Trail. (above)
Please see:
http://www.selfguidedturkey.com/turkey/trekking-in-turkey
http://www.selfguidedturkey.com/st-paul-trail-106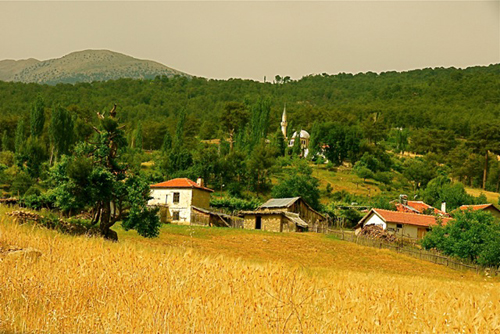 The lovely small villages scattered about the rims of all of these canyons is breathtaking. A small village above the Saklikent Canyon. (above)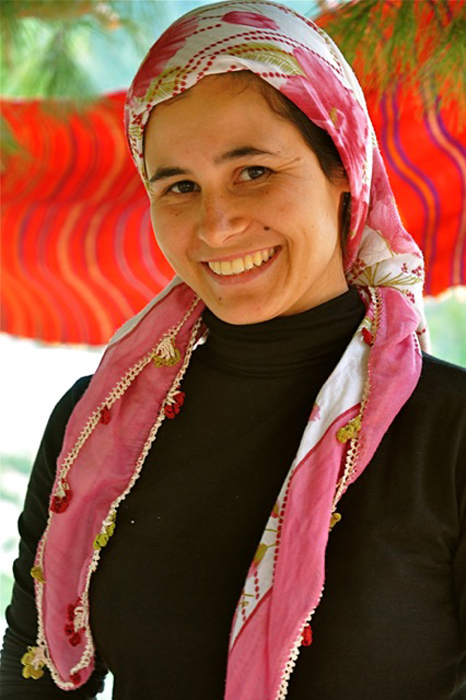 Turkish Canyon beauty was selling tasty tea, flat bread and diced mutton in a very small family road side tent. (above)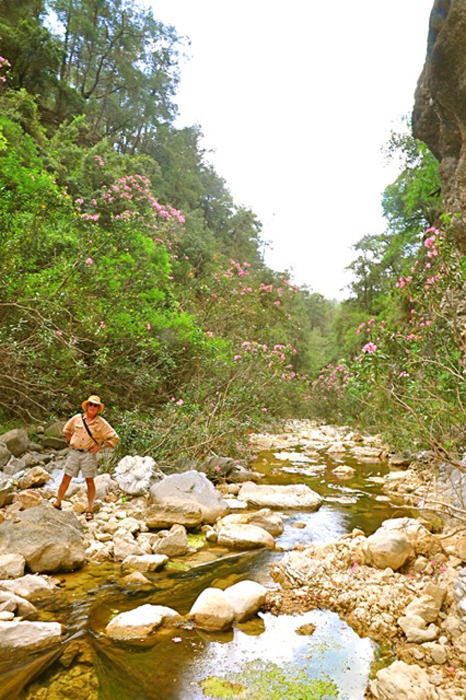 Tourgut Canyon
The entrance of the Tourgut Canyon or "Deer Canyon".  A little known slot canyon near Marmaris. The splendor of the native Pink Bougainvillea common to all of these canyons came as a complete surpise. For the true canyoneer, this hidden jewel is yet a challenge to be discovered. (above)
http://www.marmaristown.com/ecotourism/marmaris-hiking.html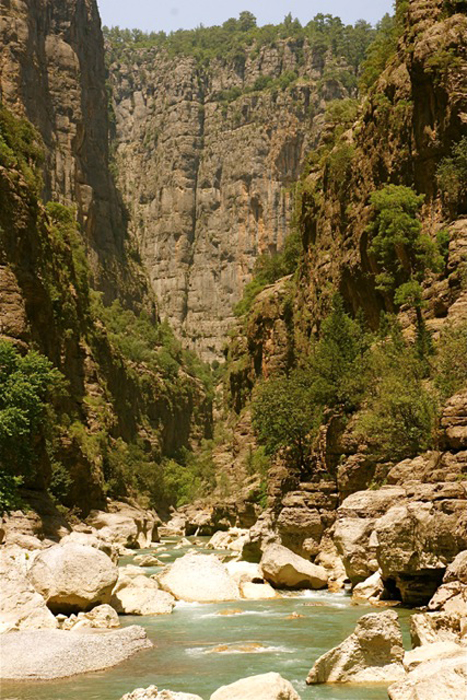 Many of the canyons in Turkey still beckon the canyoneer.  We basically did an inventory of the major canyons along the southern coast. It would require a wet suit do to the very cold water and a great deal of canyoneering skill as well as youthful strength and energy to explore more deeply into these, perhaps dangerous, narrows. We are quite sure it would be worth it however. Such an explorer would find and incredible array of springs, water falls, side canyons and deep emerald as well as sky blue waters which most likely have never been photographed before.
Saklikent Canyon: an incredible slot canyon about 60km west of Antalya (below)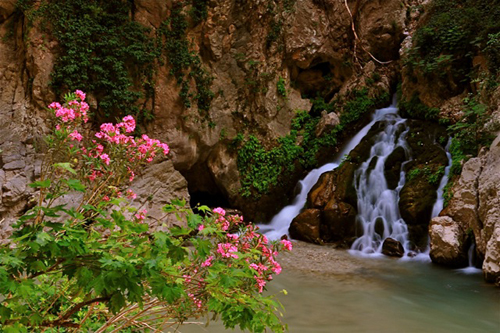 Recommended:
Excellent Guide/English speaking Turkish/American
Enver Lucas
Address: PIM PK #20
Antalya, Turkey 07275
Phone: (0242) 419-2441
Cell:  (0532) 477-2642
Contact web site:
www.cavurali.com
lucas@turkertravel.com.tr
Enver Lucas is a Turkish American who introduced adventure travel to Turkey. After graduating from TED Ankara Koleji and college in San Diego, he lived in Yosemite National Park for over a decade. Here he learned about the hospitality business and became an avid mountaineer, skier and naturalist. He became a professional whitewater rafting guide and worked many Western US rivers before returning to Turkey to navigate the first descent of the Coruh River. Enver remained in Turkey to climb mountains and to author his book Trekking In Turkey for Lonely Planet, he married Tosun's daughter, and then started his own company specializing in adventure travel tour operations in Turkey. Enver realized the potential for tourism along the beautiful Turkish Coast at a time when pleasure trips there were unheard of so he researched the area from that perspective. He i considered the pioneer of classic, ecologically safe, and culturally interactive sailing itineraries in Turkey such as "The Turquoise Coast" and "The Sapphire Seas". Enver is an accredited professional guide and tour operator for connoisseurs, and works with leading American adventure travel firms such as Geographic Expeditions and Wilderness Travel.