Nov
1
Canyons and Volcanoes Wonderland Water World
Teng Chong, Yunnan, China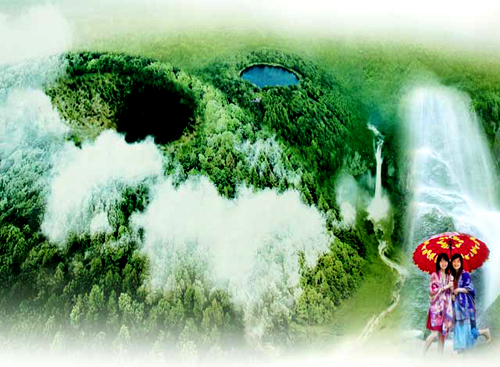 Tengchong, an new center for Green Tourism or Eco-tourism travel.
In western Yunnan, China on the Burma border TengChong county has 23 nationalities, most predominately the Han, Dai, Hui, A'chang, Lisu and Bai. During the "New Stone Age" people lived in this fertile valley and evolved into the early Han Dynasty state called "Dianyue" or "Elephant Riding State". TengChong was a major stopover, supply, and resting place for the southern Silk Road traders in silk, tea and highly prized jade.
http://www.travelchinaguide.com/silk-road/southern-route.htm
Tengchong has been a frontier protection zone for China through many time periods but played a key role in the "Anti-Japanese War", or what is more widely known as WWII. During this time period the Tengchong people and main Chinese army joined forces with the American Air force, the so called "Flying Tigers",  who were flying what is called the "Burma Hump" to expel the Japanese. Therefore, Tengchong people and American have a long and enlightened history together. Today Tengchong is still a destination for the "Flying Tigers" and their descendents who fondly remember, working shoulder to shoulder together, to rescue and save many the crashed American high flyers.
http://en.wikipedia.org/wiki/Flying_Tigers
http://en.wikipedia.org/wiki/The_Hump
TengChong has always also been a very famous retreat for artist, philosophers and religious thought and practice, principally Buddhism and Taoism. It is a place and people who prize for themselves and their guest moderation, and hospitality.
http://www.megaessays.com/essay_search/Taoism_Buddhism.html
http://en.wikipedia.org/wiki/Taoism
Today, Tengchong is the center of cultural and natural tourism.  Equally, now seven 5 star resorts are finished or nearing completion. It now has a golf resort, a number of very well furnished hot spring retreats and spas and plans for more in the near future. It has a new completely modern airport and the new "freeway style" road is scheduled to be completed by 2012. It is the gateway to the NuJaing River and it is planned to be a gate way into Burma, it is hoped, soon. Downtown Tengchong in 2010, is under complete renovation, which according to current Chinese national development standards, will be finished so very soon, perhaps in one year or so.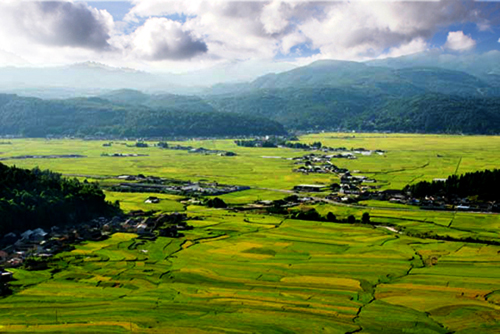 A view looking west of the TengChong Valley from Gaoligonshan Mountains.
September-October 2009
The Tengchong valley has a unique geological history that provides for it's very rich soils. The  "volcano barrier waterfall" pictured below was an intrusion that stopped up the Tengchong river for a time.  A large lake built up behind this "volcanic barrier" and deposited very fertile sediments that almost filled in the lake. Eventually and slowly bit by bit the lake water overtopped the volcanic intrusion allowing the river to flow toward the south again. The lake drained bit by bit leaving behind the rich sediments for agriculture and now only the so called small marshy lake called "north sea" or more properly Baihai Lake Wetlands is all that is left of the original lake that filled the entire valley. This agricultural fertility stimulated the TengChong vallies early settlement and is one of the primary reasons for it's importance today.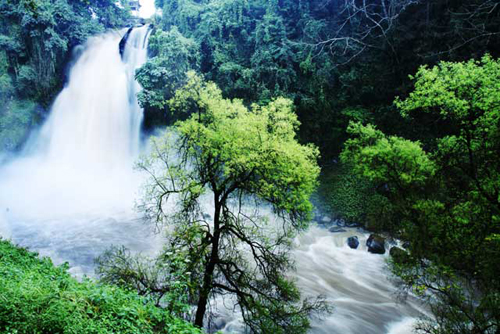 This waterfalls in virtually in downtown Tengchong and now the center of a 5 star commercial development. October 2010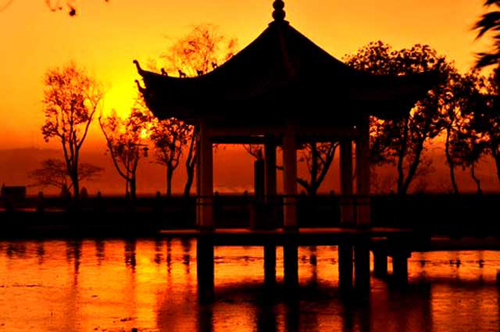 The "Charming Ancient Town of Heshun" is one of the major tourist attractions and is the famous home town of many overseas Chinese. May 2010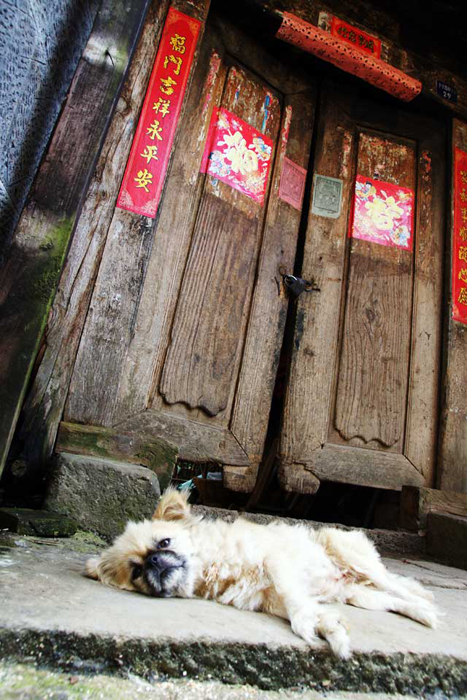 The "Lil Dog" of Heshun-Guards the town today. Please do not disturb the tranquility here. 2009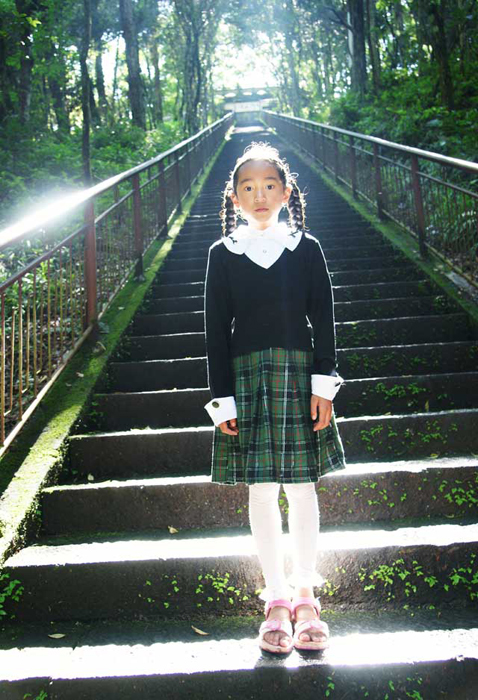 Mystical school girls climbs the stairs of Laifeng Forest Park Hill in downtown Teng Chong.
The Hot Sea Tour and Resort
Is in a deep and mysterious canyons with many pools, geysers, and steam vents and is about 10km to the southeast of town on a paved road. There are many accommodations and healthful baths found in this region.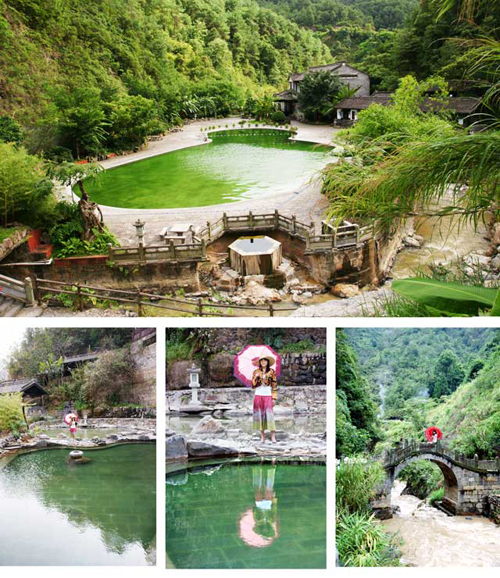 It's called Hot Sea, OK?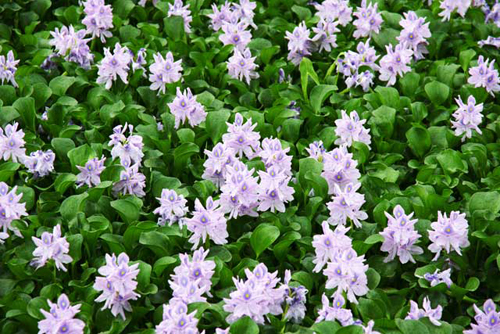 Yufeng Mountain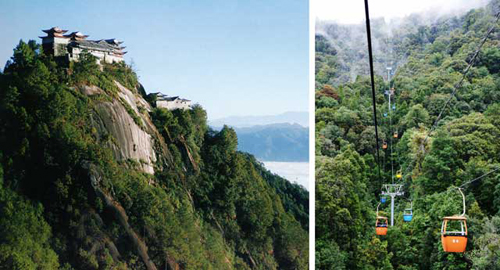 Yunfeng Mountain,  a shrine for Taoist is 60km northwest of Teng Chong and has a cable way half way up to the top.
"Tabacco Drying Tower",  Village life at the foot of Yunfeng Mountain. September 2009
Cherry Blossom Valley Hot Springs – A Natural Canyon Hideaway
This is one of the best trips from TengChong for the nature lover and hiker has rustic accommodations and good food available. This canyon is located in the Gaolingshan Mountain nature reserve  and has "many pink wild cherry blossoms everywhere in the valley…falls gushing from the steeps of the mountainside swiftly drop down like flying dragons…the drips splash in all directions like pearls…" What beautiful local language. The reader can go and judge for themselves if it is all true. Cherry Blossom Valley is about 20km east of TengChong 20km along a cobble stone road.
"Jade-dragon like flying falls" and a "a natural oxygen bar", and also, what would be a tourist area without a few local "canyon beauties" to spice up the views?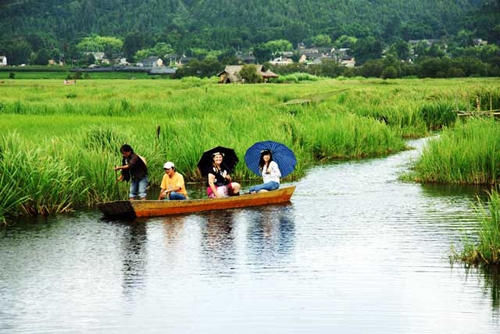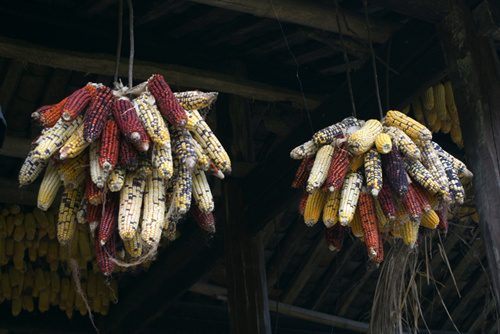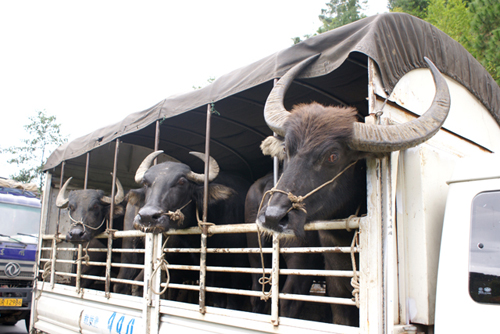 Tengchong Water Bufflo to market in late September 2011
Gaoligonshan Mountains
These mountains are called locally by many names, green labyrinth, green gene storehouse, spontaneous museum,natural arboretum, a shelter for rare plants and animals. It is ranked as a class 'A' nature reserve by the World wildlife Fund in 1992.
http://www.globaltrees.org/bigtree_rhododendron.htm
These mountains produce some of the finest and most highly prized teas of China. This is a photograph of a shaded tea producing grove especially made for the cultivation of Japanese tea counisers  of the finest taste requirements. some tea trees here are many hundreds of years old and there is so much demand for their produce that the trees can hardly keep up.  so some of the teas from this volcanic mountains can be perhaps the most expensive in the world, it is said.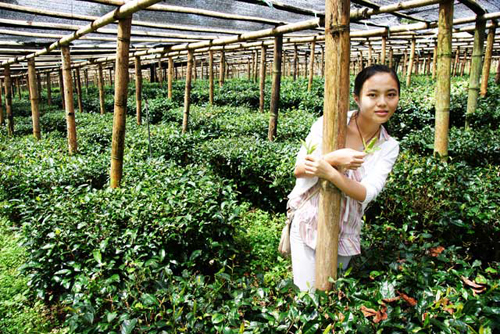 Yunnan is a treasure land of China for developing the tea industry. All the tea-producing areas of the province are located at elevations from 1,200 to 2,000 meters. The annual mean temperature ranges from 12°C to 23°C, effective annual heat accumulation is between 4,500°C and 7,000°C, and annual rainfall is 1,000-1,900mm. The monsoon season is concentrated in May through October, during which the rainfall constitutes about 85% of that of the whole year. The  monsoon coincides with the hottest months, and there is a very high value of effective rainfall. In the dry season which starts in November and ends in April, There are sufficient sunny day. There is adequate sunshine, and the tea trees have a long growth period. Under normal conditions, the tea-leaf plucking period may last for 8 to 9 months. The tea-growing areas are generally covered with red, yellow of brick-red soils with the pH value ranging between 4 to 6. Comparing with other major tea producing countries, the climate of Yunnan is more suitable for growing tea trees. Therefore, Yunnan has rich varieties of tea trees and excellent tea species.
This history is so interesting 4 links are provided for the reader to enjoy the extensive history and this cultural resource to humanity:
http://www.tuochatea.com/history_of_yunnan_tea.htm
http://www.tibettravel.info/chamdo/tea-horse-road/history.html
http://www.tuochatea.com/ancient_tea_horse_road.htm
http://en.wikipedia.org/wiki/Ancient_tea_route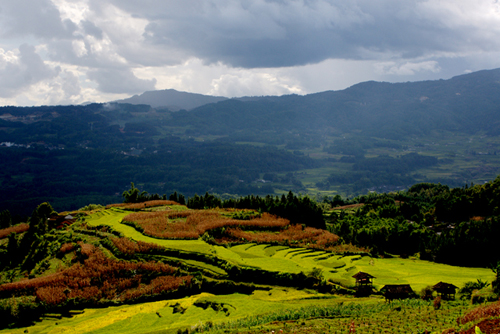 Rice Harvest in Mangbang 30km east along the main road from TengChong. This is an exceptionally beautiful terraced canyon/valley that never sees any tourist. So the local people do not know quite how to respond to visitors.
Maybe some day it will be fitful for tourist and a tourist attraction like some other major terrace complexes elsewhere in Yunnan, China and southeast Asia. If hospitality is provided to visitors, then tourism will very likely benefit the local economy much.